Gahaya Links – A real Rwandan succees story!
Article posted on Friday, November, 13th, 2009 at 00:22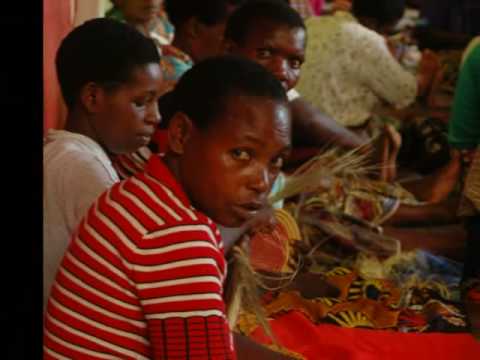 If you have met a true social entrepreneurship hero once in you lifetime, rest assure that you will remember that encounter fot the rest of your life! A real understatement.
During my time in Uganda, I experienced and saw the impressive handcrafts that was made in the rural villages and I had heard about the entreprenurial women who had organized themselves and tried to sell their products, in order to create a more sustainable life at the same time as creating a future for their families, but it never dawned upon me that anyone could organize thousands of women into the same direction of progression and success. Not until I met Joy Ndungutse today in the outskirts of Kigali.
She and her sister Janet (which today was buzy with a marketing campaign in New York City) are the founders of  Gahaya Links. Joy who had lived in a Ugandan refugee camp for a long time,  before returning to Rwanda straight after the genocide in 1994,  I just had to greet to her in Luganda. "Oli yutia, bulungi? " with a classic twist of  "BONGA KALE KALE!" her instant respons was "AAhhhhh, you're a quick learner! I guees you really loved Uganda!". Another understatement.
More then 4 000 rural women are employed who weave intricate baskets, "Peace Baskets" that wind up on the shelves of Macy's in New York City. Gahaya Links is an extraordinary story of two women overcoming all odds to build a export business in Rwanda that is a significant employer of Rwandan women, many of them widows from the 1994 genocide.
When you meet these women social entrepreneurs, that has overcome and reconciled with the tragedy of the past history of Rwanda, you truelly understand that women like Joy & Janet are true heroes of our time! Just check out the Youtube-clip you'll understand why I'm amazed and really blown away by Joy Ndungutse and Gahaya Links.
Warm regards and a heart full of Joy :-))
Emre Gürler.
P.S Pics will come once I get back home.

Add Your Comment