The Rwandan revolution: Digitalizing a whole nation.
Article posted on Thursday, February, 4th, 2010 at 16:09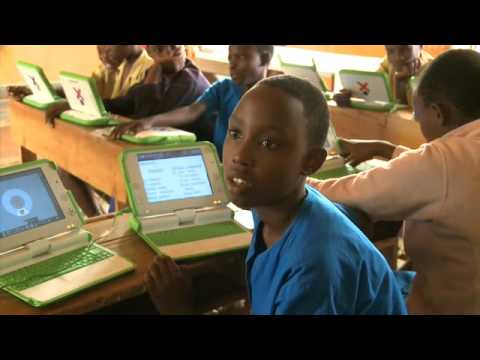 The Rwandan revolution continues. Low-cost laptops have now reached children in 31 developing nations, including Rwanda. The One Laptop Per Child program (OLPC) launched in Rwanda in October with the aim of providing computer access to the country's 2.3 million schoolchildren. President Paul Kagame has supported the program and efforts to expand schooling and educational resources in the country. In this Youtube-clip Worldfocus correspondent Martin Seemungal travels to Rwamagana, Rwanda.
The Rwandan revolution continues within the ICT-area. Below you'll find an article regarding how the capital of Rwanda,  Kigali, will become a wireless city.
Kigali to become Wireless city.
Kigali will soon go wireless after the government launched a $7.66 million wireless broadband (WiBro) facility that is set to make it the first "hot spot" capital city in Africa. The service will go commercial in three months. The wireless Internet facility was built by Korea Telecom, South Korea's largest fixed-line telephone operator and second-largest mobile carrier. Korea Telecom clinched the $7.66 million deal in 2007 from the Rwandan government to build an infrastructure for the WiBro technology-based network.
"The launch marks the first entry of WiBro technology into Africa," Korea Telecom executive vice president and head of global business Soo-Ho Maeng said. Along with a number of similar projects in Africa, the South Korean company is also undertaking a $40 million project that commenced in 2008 to provide a network for Internet access in Rwanda called the Kigali Metropolitan Network.
The Kigali Metropolitan Network (KMN), which is laid on a fibre optic loop, is a large computer network that spans a metropolitan area. It also provides Internet connectivity for local area networks in a metropolitan region, and connects them to wider area networks like the Internet.
This article was published in December 2009 in The East African.
Add Your Comment